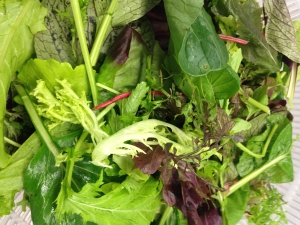 Our Fall Mixed Greens is a celebration of exotic greens like endive, radicchio, colourful mild oriental greens, arugula, lettuce, and more! It is our favourite of the season as it is spicy, tender, and delicious.
This bag of mixed greens, though, is NOT included in the Children's Baskets as the Children's Baskets only receive "Mild Lettuces."
If you order a basket type other than a Children's Basket and prefer Mild Lettuce, it must be added to your order as an "Add-On." We are unable to substitute one for the other.