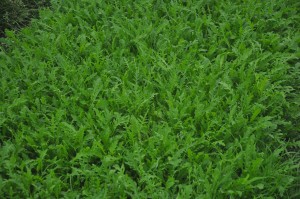 We are now offering a "greens only" basket for those greens-freaks out there (like us!)
In this special basket ($60), you will receive a delightful combination of Mixed Salad Greens, Leaf Lettuce, Romaine, Micro-Greens, Pea Shoots, as well as lots of cooking greens like Blue Kale, Red Kale, Swiss Chard, and Blue Leaf Cabbage.  As the season progresses the contents will change but the basket will always be full of wonderful greens – for fresh eating, cooking, or juicing!! And heirloom tomatoes when we have them!!
To this basket, you can Add-On additional fresh vegetables as you like!
(But we cannot accept any customization for this basket – it is delivered as we prepare it at the farm and we cannot substitute items or accept "stop orders." It is designed for "greens lovers" only.)