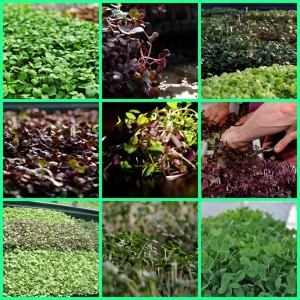 It's Spring at Bryson Farms!
Micro-Greens and Pea Shoots are not only beautiful – but delicious and healthy as well! We have been growing this "Superfood" for many years!
We receive lots of emails about micro-greens and pea shoots as many of our customers do not know how to use them or confuse them with "sprouts."
First of all, our micro-vegetables are grown in sterilized soil, not water! "Sprouts" are grown in water and are subject to many health issues. Our varieties of micro-vegetables include many types of radish, pak choy, kohlrabi, cabbage, mustards, oriental vegetables, broccoli, raab, kale, turnip, and more! Plus, we are always experimenting with new varieties!
Both of these products are grown, harvested, washed, and packaged on our farm. They arrive at your door "ready-to-eat" and do not need to be washed again! And our new custom packaging for micro-greens and pea shoots enable these products to store refrigerated for 7 days or more!
Micro-greens and pea shoots contain higher levels of concentrated active compounds than found in mature plants or seeds. These tiny baby plants have very high nutrient values and are considered a new "functional food"which is a food group which promotes health or have disease preventing properties. In others words, they are GOOD FOR YOU!!
Here are some ideas for ways to use them:
– They are great as their own stand-alone salad – either separately or mixed together for a great "sweet and spice" combination.
– Combine them with any salad or us them as a salad "topper."
– They are fabulous wilted on stir-fry.
– And on sandwiches – WOW!
– Or "topped" on soups – especially thicker soups or chili -WOW!
– "Chopped" into marinades, sauces, and dressings.
– "Wilted" over fish, chicken, pizza, lasagne, beef………really anything!
–  Smoothies and juices – micro-greens offer a quick way to make your smoothies more nutritious, not just delicious. To develop a smoothie recipe that is truly beneficial to your health (as well as your taste buds) you should be incorporating micro-greens.
– As a garnish for anything – we all  "eat with your eyes first!"
As so many of our chef customers already know, these micro-vegetables are a fast and easy way to blast colour and flavour on anything you use them on! Be creative! And if you have any ideas to add to the list, please let us know.