We have lots of customers who have trouble with the winter cooler concept. So we will try to make it simple. The first thing to remember is that you must have a large cooler – at least the size of the one shown in the picture below.
We recommend the two-pillow method as the best way to keep your produce from freezing in the winter. We have placed one pillow at the base of the cooler (pillowcase optional!) You will need two "standard" sized pillows with lots of "give." King-sized pillow are too large and sofa-cushions do not have enough flexibility and memory foam pillows are too difficult to mold around your produce.
When making your delivery, we remove the pillow on top, and place the basket on top of the pillow laying on the bottom of your cooler. We then cover your produce with the second pillow and close the lid. This method will protect your produce in very cold temperatures (-25C) as long as you are home soon after sunset to retrieve the basket.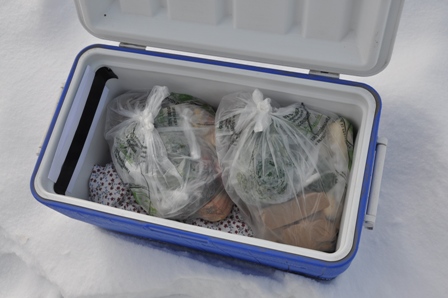 This is the best way for your cooler to look when we arrive!! Nothing in the cooler except two pillows on top of each other. If you have a six person basket or lots of Add-Ons, additional coolers will be needed.